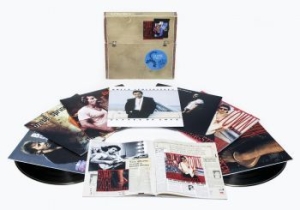 Springsteen Bruce - The Album Collection Vol 2, 1987-19
Fakta
En limiterad och numrerad vinylbox innehållande 4 studioalbum, 2 EP och 1 live dubbelalbum som sedan länge varit utgångna.
Tio stycken vinylskivor ingår i boxen av. Allt remastrat från de analoga orginaltapernaav Bob Ludwig och Toby Scott.
Följande ingår:
"Tunnel of Love" (1987)* (2 LP)
"Human Touch" (1992)* (2 LP)
"Lucky Town" (1992) (1 LP)
"In Concert / MTV Plugged" (1993) (2 LP)
"The Ghost of Tom Joad (1995) (1 LP)
* utökad till 2 LPs för bästa ljudkvalite´
12" EPs som ingår:
"Chimes of Freedom" (1988) (1 EP)
"Blood Brothers" (1996)** (1 EP)
** för första gången utgiven på vinyl
Boxen som är designad som Bruce Springsteen's gitarr case, innehåller dessutom en 60-sidig bok med memorabilia.
Dessutom ingår digitala download codes för alla album.
| | |
| --- | --- |
| Artist: | Springsteen Bruce |
| Enheter i förpackning: | 10 st |
| Inspelad, år: | 2018 |
| Label: | Columbia- Le |
| Lev. Artnr.: | 88985460181 |
| Leverantör: | Sony Music |
| Media: | LP |
| Releasedatum: | 2018-05-18 |
| Streckkod: | 0889854601812 |