About Bengans
For over forty years Bengans has been supplying the good folks of Gothenburg with records and since 1995 the rest of Sweden (and the world) has been able to take part of our record selection in our web store. Nowadays we also have stores in Stockholm and Linköping. Our head office and mail order inventory is connected to our store at Stigbergstorget in Gothenburg. Here you will also find our cafe where in addition to delishes food and beverages you can enjoy both live gigs and film screenings from time to time. Everyday thousands of people stop by one of our stores.


In our selection you will find records, movies, books and merchandise. We love the returned enthusiasm for vinyl records and we offer a large selection of new released, re-released and used vinyl records. You can also find imported records and artists own-distributed records. Bengans has a big involvement in Record Store Day, when we stock up our stores with all kinds of interesting, special releases.


Like our customers, we here at Bengans are music lovers and appreciate the connection with artists. We often have live gigs and signings on stage. During the years we have had artists like David Bowie, Belle and Sebastian and R.E.M, plus most of the big Swedish names like Kent, Anna Ternheim, Ulf Lundell and Lars Winnerbäck.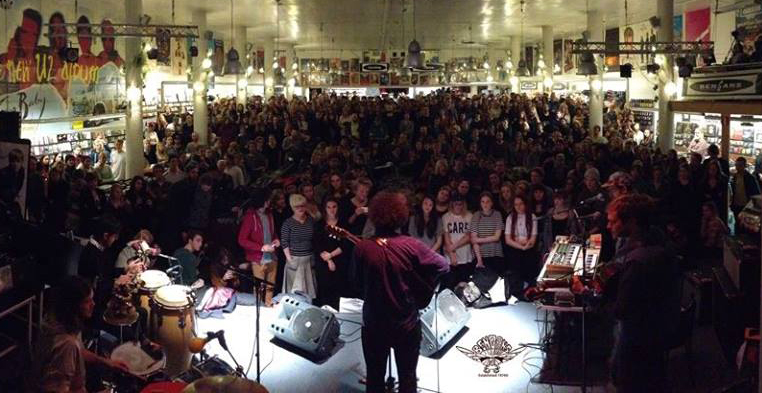 Jose González, playing for a crowded store on the big stage at Stigergstorget, Gothenburg.


Nostalgia from the 1900's
1974. Bengans record corner opens at Kommendörsgatan 27.
1975. The store is moved to Allmänna Vägen/Kaptensgatan and has a turnover of 200 000 SEK.
1977. The store is discovered by punk rockers who start trading in their unique records for bengans to re-sell.
1978. The prices are raised for the first time (28 SEK). Kapten Gitarr opens across the street.
1979. Used records are more and more being replaced by new vinyl records.
1982. Kenneth Sandström is hired as Bengans first employee. The store is temporary moved back to Kommendörsgatan.
1983. The property on Allmänna Vägen is being renovated.
1984. The store opens in the newly renovated property on Allmänna Vägen.
1985. CD's cost 120 SEK and LP's 55 SEK
1986. Bengans moves to the old movie theatre Fyrens property at Stigbergstorget, where the store still resides.
1987. Opens up a cafe and starting to sell concert tickets.
1988. A first improvised signing/gig with Courtney Pine.
1989. The sales of CD's is starting to catch up with the LP's and prices between the two are getting more even, (CD's 110 SEK, LP's 72 SEK).
1990. Concert and tour business is started with Musik/Musik.
1992. The Store at Stigbergstorget is expanding to Götabankens premises. A record label is started.
1993. Opens a store at Centralstationen. Arranging concerts at Scandinavium and Globen for Ulf Lundell.
1995. Starting to sell CD's online.
1999. Bengans celebrate their 25
th
anniversary.
...and it has continued into the 2000's...
Three new stores are opening. One, at a great location on Drottninggatan, Stockholm, another one in the central part of Gothenburg and a third one in Linköping.
The store at Stigbergstorget goes through a big renovation and more space is made for the cafe with a stage connected to it.
Bengans Distribution is started with labels as Gaphals, Whoa Dad, Luxury, Adore, Bolero and Novotion.
The sales of vinyl records are closing in on the CD sales, after 25 years the "order" is almost restored.
Bengans is listed as one of "27 record stores you have to visit before you die" by the American "Buzzfeed".